Fireboy on Thursday, 28th July 2022 released the track list for his third studio album 'Playboy' via his social media platforms.
There are takeaways from the Award-winning Afrobeats maestro's new album.
International Appeal: Judging by the tracklist, Fireboy appears to be at a position in his career where he feels confident enough and that the time is ripe to compete internationally.
Chris Brown and Shensea are clear examples of this.  Many believe the 'Peru' remix with Ed Sheeran's which has outstanding global success could be the motivation.
Commercial Hit: Fireboy and Rema's partnership suggests that they hope to achieve a huge commercial hit by leveraging the popularity of two Afrobeats icons.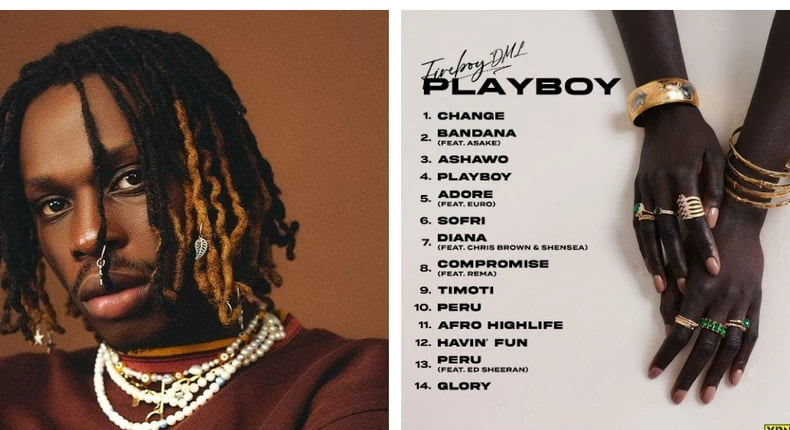 Additionally, he might be thinking about the Grammys because his songs "Change," "Afro Highlife," and "Glory" seem to be an attempt to explore soundscapes that the Academy would find appealing.
With only 14 songs, Fireboy may be trying to keep the album's length short in order to maximize listenability and repeat value.
Also read: Top 10 Nigeria Music Countdown: Fireboy DML & Asake's 'Bandana' tops list
Meanwhile, Fireboy plans to make "Playboy" available on August 5, 2022. After releasing "Laughter, Tears, and Goosebumps" in 2019 and "Apollo" in 2020, the album will be his third in four years.
Guest appearances on the album: The track list made clear that the next album will have a variety of national and international guests that listeners will appreciate. Asake is joined by Rema, Chris Brown, Sheshea, Euro, and Ed Sheeran, who is also a featured artist on the album.