The Benue State chapter of the Peoples Democratic Party, PDP has described the 100 days in office of the Benue State Governor, Hyacinth Alia as worst in the history of the state.
In a statement signed by the State Publicity Secretary, Bemgba Iortyom, Alia has failed on all his one hundred days promises.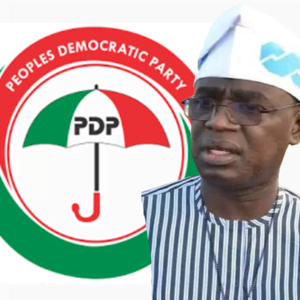 The statement reads: "Today, 5th September, 2023, marks 100 days of Hon. Hyacinth Alia's assumption of office as Governor of Benue State, and Peoples Democratic Party (PDP) in the state sums up his performance thus far as a fusion of Emptiness and Disappointment.
"It is an incontrovertible fact that he has achieved the worst take off in office of any governor of the state, both military and civilian, since its creation in 1976, with neither direction nor content to be found in anything he has done so far.
"PDP's assessment of Governor Alia's performance derives from the template of promises he made during the campaigns and after he assumed office, chiefly amongst which were to return persons displaced from herdsmen genocide (IDPs) back to their ancestral lands, as well as to clear arrears of salaries and pensions to workers and retirees, all within his first 100 days in office.
"Not only has the governor fail to make good on any of those promises, he has evidently not even considered them a priority since their pronouncement.
"If Governor Alia has achieved anything in his first 100 days in office, it is, perhaps a counterintuitive manner of governance which has seen him lock up all government financial accounts, giving as his alibi a fear of "hyenas and hawks" whom he says are waiting to devour the contents of those accounts.
"Yet himself has been drawing from the same accounts since his possibly a 'lamb and dove' who won't touch the funds even as he administers them without the institutional supervision prescribed by law.
Read Also: Over 2,484 Benue Sacked Civil Servants Write Alia, Demand Reinstatement
"This Benue State Governor has run the most bizarre government ever known under Nigeria's democracy, with his failure to appoint an Executive Cabinet well after the 60 days required under law, yet did award contracts to the tune of billions of naira within the same period, well above his lawful spending limit of N50 million and without the administrative procedure of Executive Council approval or legislative appropriation.
"If there must be anything ascribed to Governor Hyacinth Alia as performance track record in his first 100 days in office, it will most likely be a disregard for due process and the rule of law which has brought upon his regime an avalanche of court cases from parties injured from his serial infractions of law.
"Governor Alia also has pinned to his chest the badge of dishonour and infamy as the most vindictive and hate-driven Number 1 citizen of Benue State, with his witch-hunt of his predecessor, ex Governor Samuel Ortom, under a since discredited Assets Recovery crusade, and his persecution of opposition elements, notably the arrest and detention of Paul Gyenger.
"PDP urges the governor to wrap his head around the fact that he has a date with history, no matter how short his time in office might likely be, and put in place a legacy which can only be in the form of governance as positively impacts the lives of the people, and not the ostentation and vendetta which so far trademarks him."