The Fulani Nationality Movement, FUNAM has sent a strong note of warning to the Benue State Governor Rev Fr Hyacinth Alia to refrain from making further comments in support of enforcement of the anti-open grazing law of the state.
FUNAM in a press release signed by its National President, Alhaji Umar Amir Shehu, said governor Alia's recent statement that his government would sustain the enforcement of the law was a direct violation of the agreement they had with him before the 2023 elections.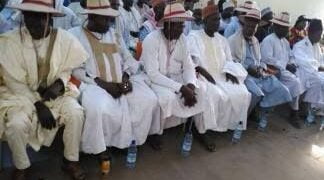 The statement reads:
"The Fulani Nationality Movement,
FUNAM
, views with great disappointment the recent statement made by the Governor of Benue State Reverend Father Hyacinth ALia who said that he will continue with the enforcement of the obnoxious anti-open grazing law of the state.
"Governor ALia's statement is a violation of the understanding we had with him which convinced us and other groups of pastoralists to mobilize resources for his election.
"In case governor Alia has forgotten, we want to remind him of the consequences of his actions. This is the same way we warned Governor Ortom against daring us but he remained stubborn until we showed him what we are capable of doing.
"We have never failed in making good our intentions, and we will always get what we want. The Ortom administration had too much hatred for the Fulanis and we told him that the people of the state will not enjoy peace on account of that. Father Alia came to us and promised to be different and we believed and trusted him.
"We agreed to support ALia because he promised that he would allow our members who Ortom chased into Nasarawa and other states to return to Benue. He started well when he condemned the activities of those bastards called livestock guards and our people began to return to Benue state after his election.
"We also acknowledged the governor's permission for the inauguration of the security organization we introduced in the state to protect our members called Al-Tershak Global Security managed by Alhaji Aliyu Tershaku.
"For peace to reign in Benue state, governor Alia must accept these conditions or be prepared to refund all that we spent on his campaigns and then face our fierce anger which will not spell good for the people of that state:
1.The governor should immediately retract his statement on the continued enforcement of the anti-open grazing law.
2.Hold a meeting with our representatives in Benue state within the next 72hours to explain why he abandoned our agreement with him.
3.Show our representatives the map detailing the areas he plans to carve and reserve for our members to reside and graze their cattle without molestation (as was agreed).
4.Direct security men not to harass our people in Guma, GWer west, Kwande, Logo, Agatu, Makurdi and other areas in Benue state.
5.Make himself available for an emergency meeting in Kaduna this week for a serious discussion.
6.Apologize to our members for his reckless utterances.
7.Desist from making further statements on the implementation of the failed anti-open grazing law.
8.Permanently ban the Benue state livestock guards and have all members of the organization arrested and prosecuted for their evil acts against our members.
"We must not fail to commend the National President of Miyetti Allah Kautal Hore, Alhaji Abdullahi Bello Bodejo who was quick to come and demand that governor Alia should abolish the anti-grazing law. We completely align ourselves with Alhaji Bodejo's call.
"We will not be sending this warning a second time. We expect the Benue state governor to take heed and act accordingly".