The Benue All Progressives Congress, APC, governorship candidate, Rev Fr Hyacinth Alia has reportedly told members of the Christian Association of Nigeria, CAN, Konshisha Local Government Area to either vote for him or be cursed.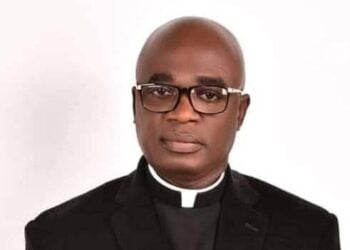 Alia had met with members of Christian Association of Nigeria, Konshisha branch at NKST Idyu as part of his campaign consultation.
However, his interactions with Konshisha CAN members turned out to be unpleasant when members told Alia not to insult them by speaking to them in that manner, adding that he is not God.
It was reported that the immediate past CAN Chairman of Konshisha Rev Ikyambe told Alia not to insult them because he is not God.
Ikyambe said even God does not treat people the way Alia has spoken to them. He reminded Alia that people have the right to choose who to vote and he can not threaten or force them to vote for him. The Christian Association of Nigeria members were said to very disappointed and angry with the suspended priest.
Read Also: 2023: Aida wins Francis Agbo at the Supreme Court
An eye witness reported that Alia left the meeting unhappy to continue his campaign tour.