The All Progressives Congress (APC) members in the opposition party of Benue have received a warning from the Peoples Democratic Party (PDP) for destroying its party campaign materials.
The warning was contained in a statement signed by the State Publicity Secretary of the party and the State 2023 Campaign Spokesman, Bemgba Iortyom.
The party said even as it has remained law abiding, It would not sit and watch its publicity materials destroyed continuously by members opposition of the party in the state.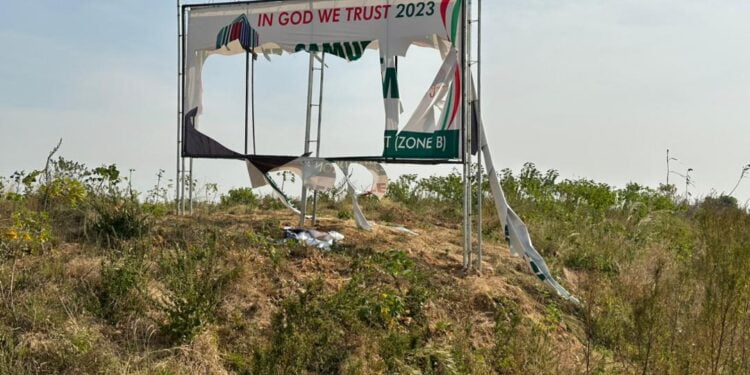 The statement reads: "Benue State Chapter of the Peoples Democratic Party (PDP) warns against continuing acts of provocation and vandalisation of its campaign materials by agents of the All Progressives Congress (APC) across the state.
"This warning becomes necessary following the destruction of billboards, flags and campaign offices of our great party last night in Gboko Local Government Area by suspected agents of the APC allegedly led by one Sarsar Ajav.
Read Also: Atiku's plan to buy votes in Benue will be resisted – Benue Youths
"PDP observes that it is becoming the norm rather than aberration that its publicity materials are wantonly destroyed by suspected agents of the APC as was the case only a few days back in the Makurdi/ Guma axis where billboards promoting candidates of our great party at Agan Toll Gate, Daudu and Yelwata were vandalised anf defaced.
"As a political party, we are committed to the rule of law as consistently advocated by our leader, Governor Samuel Ortom, that it remains the only recourse to seeking redress for those wrongs against us, and have duly lodged our complaints with law enforcement agencies.
"We, however, demand an end to this ugly trend as continued lawlessness would at some point beget lawlessness, no matter the docility of the party at the receiving end of it – the victim."