Heavy protest rocked Ugbokolo town in Okpokwu Local Government Area on Tuesday over the death of a young man allegedly killed by members of a suspected cult group on Sunday.
Speaking to Agate Radio, our source who pleaded anonymity, explained that there has been a lingering clash between two cult groups since between Wednesday and Thursday last week, resulting to the death of six persons suspected to be cult members from attacks and reprisal attacks.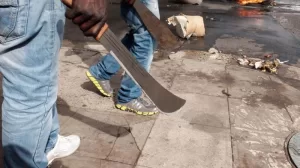 He said on Monday, another boy was killed along Aokpe Road which triggered the anger of youths in the community, who after finding the corpse of the boy on Tuesday, protested with his mutilated body around Ugbokolo town, disrupting movement, shutting down businesses and academic activities, including in Benue State Polytechnic.
Houses of suspected cultists believed to have killed were reportedly burnt down by the protesters.
Meanwhile, the Benue State Commissioner of Police, Bartholomew Nnamdi Onyeka, while parading suspected kidnappers and responding to the Ugbokolo cult clash, said the police were on top of the situation and have arrested some cultists, adding that peace has returned to the area.
POLICE PARADES KIDNAPPERS IN BENUE
Benue State Police Command, Tuesday, paraded five suspected kidnapers arrested in different parts of the state, at the police headquarters in Makurdi.
Parading the suspects, the Commissioner of Police for the Command, Bartholomew Nnamdi Onyeka said Officers of Operation ZENDA JTF Tactical team trailed and arrested a dreaded and vicious armed bandit kingpin named Kumaor Fachir Daniel along Adipo-Ugbema Road, on Monday.
CP Onyeka said further investigation led to the arrest of four other gang members, Iorwuese Ashieka, Aondongu Aligbe, Terkula Wune popular known as Oryoghurt and one Terhemba Sev-av, a forty seven year old member of the gang from Adikpo who specialized in fixing and manufacturing rifles for the gang.
According to the Commissioner, items recovered from the suspects include two AK-47 rifles, two other fabricated AK-47 rifles, two Beretta pistols in the process of fabrication, one double barrel gun loaded with thirty-five live cartridges, one hundred and thirty rounds of live ammunition and charms.
He warned that the Benue State Police Command under his watch will not tolerate criminality of any kind, revealing that the Command has deployed human and material resources to rid the state off crime.
Read Also : Why Benue Governor could be impeached for flagging off road projects
When asked about the cold war between two rival cult groups in Ugbokolo, Okpokwu Local Government, he said police were on top of the situation and have arrested some cultists, adding that peace has returned to the area.
On the issue of renewed herdsman attack in some parts of the State, the Commissioner of Police disclosed that security personnel have been deployed to the affected communities and warned those behind the attacks to desist forthwith.
Cp Onyeka called on the people of Benue State to cooperate with the Police by giving useful and timely information that would assist the Command tackle crimes, noting that a crime-free society makes room for sustainable development, particularly in a state like Benue that he noted was endowed with so many resources.