lawmakers of the Ekiti State House of Assembly have impeached the new Speaker Gboyega Aribisogan.
Aribisogan's impeachment took place on Monday, November 21, 2022 which is less than a week after he was elected.
According to report, seventeen out of the 25 lawmakers voted in favour of Aribisogan's removal. He was also suspended indefinitely on Monday.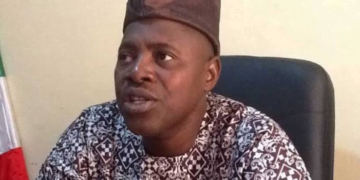 Meanwhile, Olubunmi Adelugba has been elected as the new Speaker.
Aribisogan became Speaker of the house after the 66-year-old Afuye had died at the Ekiti State University Teaching Hospital on October 19, after suffering cardiac arrest.
The parliament staged an election a month after his passing, and Aribisogan, a two-term politician who represents the Ikole 1 Constituency in the Assembly, won.
Read Also: Benue PDP Governorship candidate goes for Medical vacation
Speaking on the Channels TV program "Sunday Politics," the embattled speaker claimed that the former governor opposed his election because he was seen as a traitor.
He asserted that some Fayemi-supporting lawmakers had prepared a strategy to remove him from office on Monday (today) during plenary.
The former head of government business, who won the speakership with 15 votes over his competitor Bunmi Adelugba, claimed that since his election, there has been a plot to depose him and install Adelugba.