By Ortindi Loho
A ward chairman for the All Progressives Congress (APC) in Benue, Hon. Uortse Paul of the Guma Local Government Areas, left the party because he felt it lacked internal democracy.
Uortse did, nevertheless, thank the party for having him in various capacities in his resignation letter, which he signed on August 30, 2022.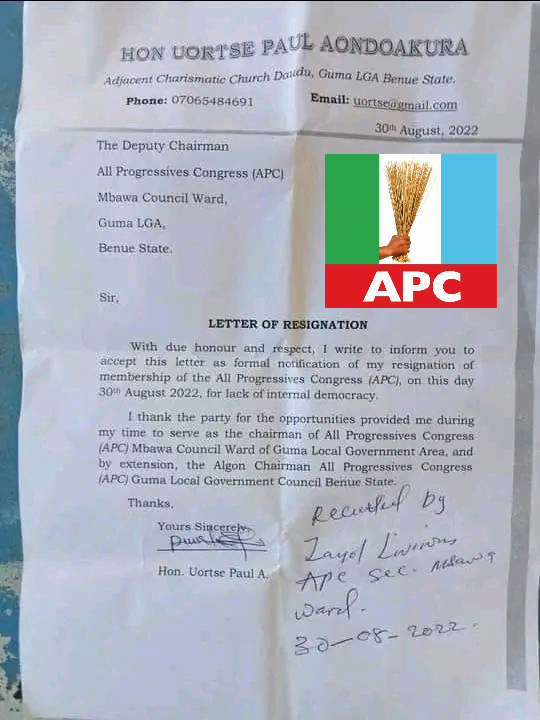 The letter reads: "With due honour and respect, I write to inform you to accept this letter as formal notification of my resignation of membership of the All Progressives Congress (APC), on this day 30 August 2022, for lack of internal democracy.
Read Also: 2023: Alia not in control of Campaign Structure – APC Supporter
Two Benue APC lawmakers defect to PDP with supporters
"I thank the party for the opportunities provided me during my time to serve as the chairman of All Progressives Congress, APC, Mbawa Council Ward of Guma Local Government Area, and by extension, the Algon Chairman All Progressives Congress, APC, Guma Local Government council Benue State."
Recently, members of the All Progressives Congress in North Bank defected to the Peoples Democratic Party, PDP, as well as members of the party from Katsina-Ala West. Mr. Thomas Kwagh-Kudi representing Makurdi North State Constituency and Jacob Orban of Katsina-Ala West State Constituency led their supporters to decamp from APC to PDP.