The eponymous characters driving this piece, render quite an interesting history to the present.
In the build-up to the last PDP National convention, yours sincerely followed and sometimes covered as a journalist, some of the events and meetings that would eventually crown Iyorchia Ayu as National Chairman of the PDP.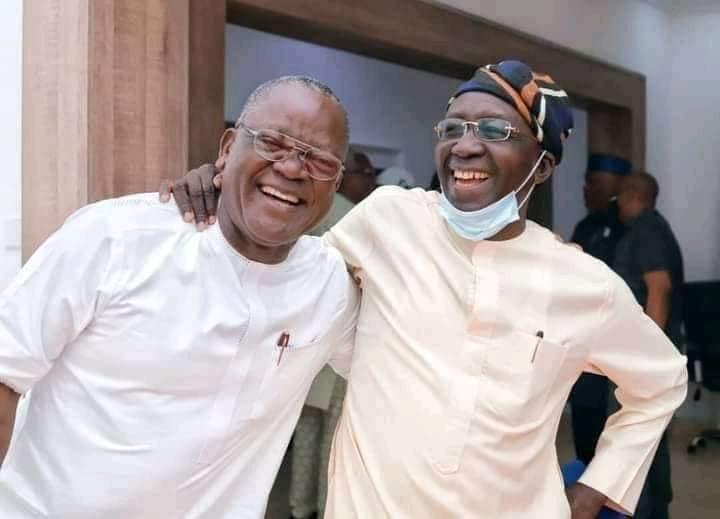 It was an ambition which current state, looked improbable in the beginning.
First, Governors on the PDP platform met and agreed amongst them that, the office of the National Chairman of the PDP be zoned to a State other than one where the serving Governor is of the PDP.
Secondly, presidential aspirants from the North were not keen on supporting a Northerner to the position of National Chairman as that was thought to weaken their Presidential ambitions.
Incidentally, many of the big wigs from the South, actively supported the idea of a PDP National Chairman from the North. This, for obvious reasons.
Nevertheless, there was fierce jostling for the Chairmanship position. The North Central, not being seriously in contention for the Presidential ticket, looked favored early on.
In the North Central, comprising Benue, Nasarawa, Kogi, Plateau, Niger, Kwara and the FCT, only Benue State is governed by a PDP member. Clearly, there was compelling reason to dissuade Ortom from supporting his kinsman for the position of National Chairman as Ortom was an active participant in the agreement of his PDP Governor colleagues to have the position of National Chairman of the party, taken to a State without a serving PDP Governor.
Read Also: Leave Ortom, carry your Cross, Jemgbagh Youths Tell Ayu
It was in spite of this earlier position, that Gov Ortom canvassed support for Iyorchia Ayu and successfully led most of his colleagues to abandon their earlier decision – a decision that clearly would have barred Ayu from drawing their support.
Series of strategy meetings were held. Many party stakeholders from the North who were skeptical of supporting Ayu, had the opportunity to listen to him address the Northern caucus of the PDP at the Bauchi lodge. It was there and then that he told the PDP party faithful that if he became National Chairman of the Party, he would relinquish same if a Northerner wins the party's Presidential nomination. This pledge by Ayu and the eventual emergence of Atiku, a Northerner as PDP's Presidential candidate, has placed a burden of honour on Ayu.
But before we delve into what regards or not, Ayu has for his words, it's worth noting that Gov Ortom had vouched for the character of Ayu before his colleagues and had persuaded them to trust his judgement and make u turns where necessary in order that Ayu becomes National Chairman. It's hard for anyone to envy Gov Ortom right now before his colleagues whom he had secured their support for his kinsman. When you recommend anyone for a position, your greatest nightmare is for that person to fail to honour their own words.
It is especially interesting as well that, when Ayu became the National Chairman of the Party, he made Gov Ortom Chairman of the party's Presidential zoning committee. Curiously, Ortom, even prior to that assignment, had made no secret of his support for the party's Presidential candidate to come from the South of the country. In spite of his personal preference, Ortom chaired the committee in an all inclusive and transparent manner that eventually led to a more unifying decision to throw the contest for the Presidential ticket open for all. Perhaps this leadership on the subject by Ortom, in spite of his personal idiosyncrasies, reinforces his right to insist on similar selfless posturing by Ayu or anyone else for that matter.
Charged by these facts, Ortom has since shoved aside anyone who would seek to blackmail him over his Senatorial ambition using his principled stance on the matter.
Ayu won't be the first politician to say one thing and insist on doing the opposite, truth be told!
But, in doing so, he will be risking the electoral fortunes of the party just so he continues to enjoy the benefits of office even if that would mean that office doesn't transition away from opposition to being the party in power.
Ayu may be known for his shrewdness but that hasn't shown in a lot of his actions.
From videos showing him actively hailing those who had stepped down for Atiku in a contest all aspirants required him to be neutral, to his failing to very quickly reach out to those who had lost out in the said primary – especially the Rivers State Governor, Wike; his childishly boisterous remarks referring to serving Governors whose support he rode on to become National Chairman of the party, as children; his unrestrained arrogance and deafness to counsel, has not shown any desired leadership quality. Not tact, not manners.
In several interviews, Gov Ortom has dropped in Ayu's lap, what would be a way out. It's true Ayu alluded to resigning if the party's Presidential candidate emerges from the North. It's also true that committing to use of words that would assuage the feelings of genuinely aggrieved critical stakeholders of the party, is an art and will be helpful in conflict resolution. A more humbling demeanor would have won Ayu the confidence, sympathy and understanding of those he's bent on shoving aside.
In a democracy, even when politicians are unable to honour their words, they do so with tact and pleas not brashness. Ayu has a burden of honour and how he manages it, how he dispenses of it, will ultimately speak to his credentials as a leader.
Hillary Ikenna writes from Garki, Abuja