Throughout his tenure, I held an opinion that all former Gov Samuel Ortom wanted out of Benue State was to make money and acquire wealth but today, I have been forced to discover that Ortom's love for wealth DID NOT include selling Benue Land to Fulani. We all saw him standing firm and rejecting money and power in defense of Benue land. Ortom refused and never ceded any inch of Benue land to the Fulani. Today as always, the greatest threat to the Benue people is not their money, but the security of their Land from where all the money and wealth can be made out of farming.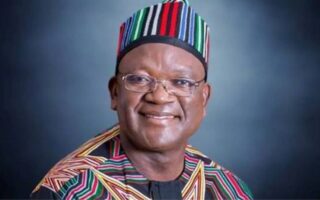 Ortom was always in the fore front of wedging media wars to expose and stop all the Fulani led FG plans to use official channels to take Benue Land in whatever name called be it; RUGA, Waterways Bill, Cattle Colony etc.
Ortom never left Benue people and the whole world guessing where he stood on the Fulani matter, he was as clear as day. When Ortom said he was sacrificing for us and that he was the Defender of the Benue Valley, we never believed him.
Speak all the Queen's Grammer and cite all the laws but the Tiv people will only remember just one thing: that man that cedes an inch of Tiv land to Fulani will be remembered as the worst enemy and betrayer of the Tiv nation.
By Teryila Peter Vande