The Revenue Mobilisation, Allocation and Fiscal Commission, RMAFC, has approved a one hundred and fourteen per cent increase in the salaries of elected politicians, including the President, vice president, governors, lawmakers as well as judicial and public office holders.
Chairman of the commission, Muhammadu Shehu, represented by a Federal Commissioner, Rakiya Tanko-Ayuba  made the call on Tuesday,  at the presentation of reports of the reviewed remuneration package to Kebbi State governor, Dr Nasir Idris, in Birnin Kebbi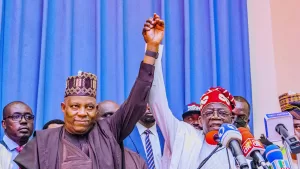 The commission urged the thirty six states' Houses of Assembly to hasten efforts on amendment of relevant laws to give room for upward review of remuneration packages for political, judicial and public officers.
Shehu said the implementation of the reviewed remuneration packages was effective from January 1, 2023.
The chairman further stated that for the judicial office holders, the commission considered the introduction of three new allowances, which are Professional Development Assistant, Long Service and Restricted or Forced Lifestyle allowances
Read Also: Ortom Honours EFCC Invitation for questioning
RMAFC is saddled with the responsibility of determining the remuneration appropriate for political officeholders including the President, Vice President, Governors, Deputy Governors, Ministers, Commissioners, Special Advisers, Legislators and the holders of the offices as mentioned in Sections 84 and 124 of this Constitution.