Members of the Extinction Rebellion Benue state group has advocated for the planting of trees as a measure to control the effect of climate change.
The group made this known on November 4, 2022, when it held its pre COP27 Action at Adaka Community along with collaborating partners from Nigerian Association for Young Adolescents to further Advocacy on Climate Change and spreading of the #TellTheTruth message for the Global community.
Speaking at the event, coordinator of XR Benue, Comrd. Moses Kyegh said climate change mitigation efforts, Adaptation and Financing require close attention at the Global level adding that both the global North and the Global South have roles to play to make a better world.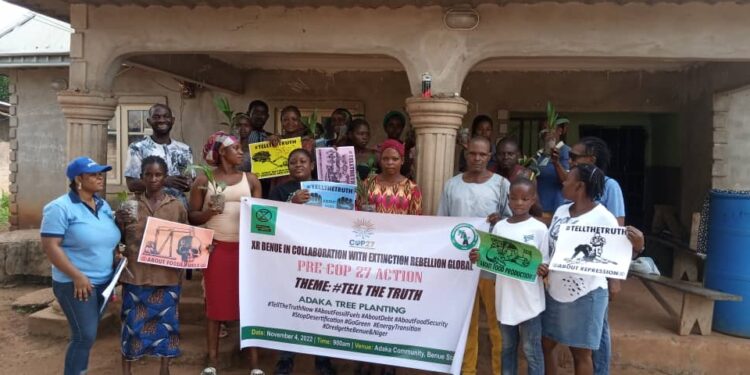 Addressing members of the Adaka community, the XR Benue coordinator informed them that as a community, the least the people can do is plant trees in replacement of the trees that their community has lost to logging, charcoal production and other negative climatic activities.
According to Moses, climate financing remains important to the future success of all climate talks and action. In his opinion, people of the world expected that wealthy countries of the Global North who are largely responsible for the climate collapse need to show they are working to meet their promise to mobilise US$100 billion per year in public and private climate finance by 2020. These group of countries must set out plans to scale funding up according to agreed COP26 protections limits.
The group's coordinator further said It is hoped that Climate Finance will target emissions reductions efforts in line with COP26 decision of limiting temperature changes to not more 1.5° C , and ensure that net zero emissions targets set for mid-century are achieved. It is also hoped that Global South will benefit from the funding in ways that build local capacity as well as helping Global South countries expand their clean energy systems, adaptation and resilience efforts.
He said "COP27 needs to deliver a financial support framework for countries being repeatedly battered by the impacts of climate change, food system disruptions, fossil fuel price spikes and other shocks. Many developing and emerging economies are struggling with mounting debt and can't secure insurance coverage commensurate with the risks posed by climate change."
Read Also: Ortom gives reasons for standing with Wike
Countries of the global North, their economic players and financial institutions were called upon to fulfil the commitments they signed up to covering transport, energy, methane, finance, deforestation and other areas to give people of the Global South who are affected by the impacts of climate change.
Speaking on stocktatking he said: " a foundation for stocktaking must be laid out to ensure that stock taking becomes a culture in the global space and be conducted on a regular , called for every five years in the Paris Agreement, runs through 2023 up to COP28.
"COP27 needs to establish a clear, transparent and honest global assessment process involving the private sector, regions and cities, civil society and youth. The stocktake needs to send signals that policymakers can use and apply at home.
"Countries of the world #Must #TellTheTruth about the roles they played and the contributions the need to make. Businesses must #TellTheTruth. All must #ActNiow."