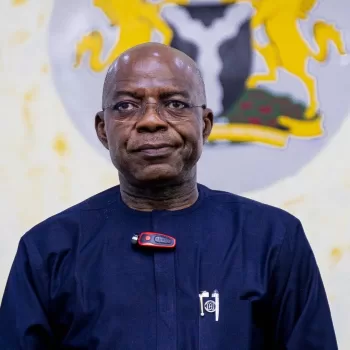 The Abia State Governor, Alex Otti, says he would not jail those who criticize his government stressing that the days of victimizing Abians who aired their opinions about the affairs of the State are over.
The Governor, stated this during a church service at Rhema University Auditorium, Aba, marking the 74th birthday celebration of the President, Living Word/ Chancellor, Rhema University, Bro Emma Okorie.
He described jailing of critics as a wicked practice, adding that it  can never find it way into the new Abia State he is leading.
Governor Otti pointed out that despite the barrage of assaulting criticisms by some people in the State, his administration will not victimize any Abian as it was their fundamental right to do so, adding that every Abian should be treated with dignity and utmost respect as seen in other climes.
He reiterated his administration's resolve to continue with the restoration of Abia to the glory of God, informing the gathering that his administration has received a comprehensive design of Aba, the commercial nerve centre of Abia as done by a reputable company, adding that very soon, Aba and every other part of the State would wear new looks.
Meanwhile, Benue State Governor, Hyacinth Alia, has been accused of allegedly arresting a young man and a social media activist, Paul Gyenger, for criticizing his government on social media. Alia
The arrest of Gyenger which happened on August 25 evening has continued to generate reactions from members of the public as many have called for his immediate release.
While none of the Benue state government officers has responded to the trending issues of the arrest, the Benue State Peoples Democratic Party gives a clue that the Benue state governor is behind the arrest and detention of the social media influencer.
PDP RESPONSE
The Peoples Democratic Party, in a statement titled: POLICE DENIAL OF BAIL FOR DETAINED PDP'S GYENGER ON ORDERS OF GOV. ALIA UNLAWFUL, and signed by the State Publicity Secretary, Bemgba Iortyom, said they were denied bailing the arrested social media activist. The statement reads: "The Peoples Democratic Party (PDP) in Benue State rejects as unlawful the denial of bail to its member, Paul Terhemba Gyenger, by the Nigeria Police Force following his arrest and detention at the Force's State Command in Makurdi.
Read Also: Benue Gov. Alia, allegedly arrests critic of his government
"Mr. Gyenger was picked up in Makurdi and is being detained by the Police following a petition by Governor Hyacinth Alia claiming he is defamed by a social media post the arrested PDP activist made regarding the subsidy removal palliatives sent to the state by the federal government. "Earlier today, Benue PDP State Legal Adviser, Barr. Clement T. Mue and State Publicity Secretary, Bemgba Iortyom, who were at the Police State Command to demand bail for the detained party activist, were denied access to him for hours and were only able to see him after a direct order from the Commissioner of Police. "But demand for his bail was denied by the Investigation and Prosecution Officer (IPO) who claimed that could only happen after a meeting between Governor Alia's team of lawyers and Mr. Gyenger's lawyers scheduled for midday, but which the governor's lawyers failed to turn up for. Read Also: New ways to survive in NYSC Camp
"Our great party believes this is a ploy by Governor Alia to have Mr. Gyenger kept in Police detention without trial longer than permitted under law, and this is in violation of his fundamental rights which will be challenged in court. "The arrest and detention of Mr. Gyenger on the orders of Governor Alia also reflects a misplacement of priorities by the governor who has kept sealed lips over spiralling insecurity in the state manifesting in such violent crimes as the gruesome murder only a few days back of Retired Justice Margaret Igbetar, as well as wanton kidnappings and killings by bandits.
"PDP warns Governor Alia to shelve any idea of a crackdown on its members and other citizens who criticize his 'one man regime' which is a crime against democracy, and retrace his steps back to the path of due process and rule of law, in his best interest and that of the state."