Benue State Governor, Samuel Ortom, has has described the destruction of PDP campaign materials by members of the Benue All Progressives Congress, APC,  as losing hope of winning the 2023 elections in the state.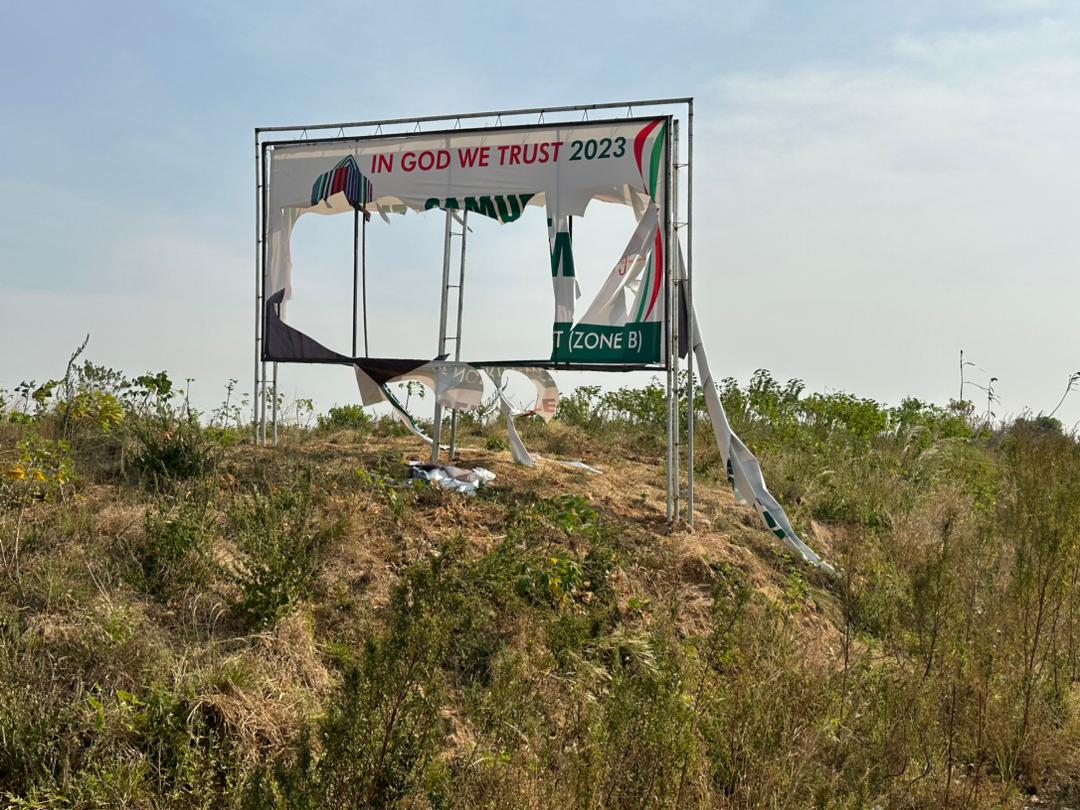 In a statement released by the Governor's Special Adviser on Media and Publicity, Terver Akase, said no amount of antics from the Benue All Progressives Congress, APC, will save them from defeat in the 2023 general elections.
The statement reads: "We read a statement by the Benue State Chapter of All Progressives Congress, APC in which the party accused Governor Samuel Ortom of using thugs to destroy billboards of the Peoples Democratic Party presidential candidate, Alhaji Atiku Abubakar in parts of the state. The APC alleged that "factions" within PDP were responsible for the destruction of the campaign materials.
Read Also: CBN: How to withdraw above your withdrawal limit
"The said statement is a clear indication that APC, having lost the hope of winning the 2023 election in Benue State has resorted to falsehood and mischief so as to divert attention from the wide popularity and acceptability the PDP has gained as evident in the ongoing statewide campaigns of the party.
"If any political party is to speak about internal democracy and harmony, such a party is surely not the Benue State chapter of APC. A party which failed to conduct just one transparent and credible primary election and is now engulfed in crisis culminating in a plethora of court cases and rejection of its candidates by a large number of its supporters lacks the moral authority to counsel anyone on peaceful electioneering.
"The PDP in Benue State is a united and formidable family whose candidates have a clear edge over their opponents and could therefore not have turned round to destroy its own publicity materials. It must be emphasized that there is nothing like Ortom and Atiku factions in PDP. The party is one and has no sects in its fold in the state.
"Acts of violence are not associated with the PDP. Leader of the party in Benue State, Governor Samuel Ortom encourages members to uphold the tenets of healthy competition and campaign of issues at all times. The Governor believes that politics offers participants the opportunity to market themselves and their platforms, but should not be a cut-throat affair.
"The insinuation that Governor Ortom used thugs to pull down billboards of the PDP presidential candidate is a blatant lie manufactured by APC to cause disaffection within PDP. The Governor has over the years built an enviable reputation as a peace-loving leader and has never used thugs to win elections.
"The Governor does not have any personal problem with Alhaji Atiku Abubakar, contrary to the claim by the opposition. The stand of Governor Ortom and his colleagues in the G-5 regarding the handling of the crisis within the PDP at the national level has been for justice, equity and fairness within the party, but not the pursuit of personal interests.
"The APC in Benue State certainly has a hand in the unfortunate destruction of PDP campaign billboards in parts of the state and only they can explain to security agencies the motive behind the dastardly act. Those responsible for the anti-democracy conduct will surely be brought before the law."