On assumption of office as the fifth democratically elected governor of Benue State on May 29, 2015, Chief Samuel Ortom met a precarious security situation. The entire state, particularly the Sankera axis was under siege by criminal elements.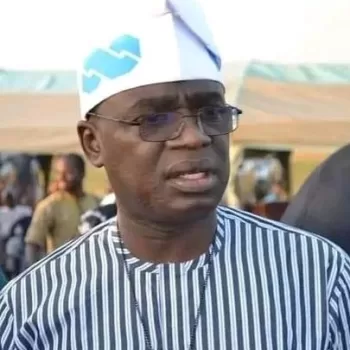 Benue was among the states that suffered setbacks because of rampant armed robbery cases before and after the 2015 general elections. Citizens within and outside the state were afraid to invest in viable ventures.
Read Also: Why Benue Citizens criticize Alia's celebration of tribunal victory 
However, worried by this development, Chief Samuel Ortom decided to immediately embark on a number of measures aimed at addressing the security challenges with more focus in Sankera, which was fast escalating to other parts of the state.
Ortom who saw the need for peace as the only panacea for development, immediately engaged major stakeholders (traditional rulers, the clergy, political class and security agents) in finding lasting solutions that would restore peace in Sankera.
Measures ranging from stick to carrot approach, dialogue to amnesty among others were applied to see the return of peace. Whether Ortom left the security situation in Sankera worse than he met, is a discussion for another day.
But on May 29, 2023, Revd. Fr. Dr. Hyacinth Iormem Alia was sworn in as the 6th Democratically Elected Governor of Benue State. The governor is barely four months old in office and it will not be wrong asking if the security situation has deteriorated or improved under his watch, or has there been any serious move by the Governor and his government to restore peace in Sankera, particularly Ukum and Logo local government areas?
Since assumption of office, Revd. Fr. Alia has not summoned major stakeholders in Sankera for a meeting to recieve briefs from them on what can be done for peace to return in Sankera. To me the Governor has gone wrong.
For a governor that places the security of his people above any other responsibilitie, even if he had not made any appointment within three months, he should've appointed a Security Adviser who will be standing in for him where need arise to tackle security challenges. Governor Alia's failure to appoint Special Adviser on Security barely four months after assuming office has also worsen security situation in the state.
The absence of local government chairmen who should be security officers at the local government areas as also worsen the security situation in Sankera.
On the other hand, unlike Governor Samuel Ortom, Alia has failed in applying dialogue, stick or carrot approach as a short or long term solution to the continued killings and kidnapping of Sankera people. Those approaches might have failed in addressing the security situation in Sankera during the Ortom-led administration but that those not mean they would still fail because, as Governor Alia rightly said on Ashiwave radio where he promised to relocate IDPs to their ancestral homes within 100 days, "it is about getting the right people to be key players" at implementing the approaches.
As the security situation continue to deteriorate everyday, what the governor need is an urgent engagement of all critical stakeholders in Sankera across party lines to find lasting solutions to the insecurity in the area.
The recent kidnap of the Governor's commissioner for information, culture & tourism, his continued silence and snail movement is worrisom as it has left much pains in the hearts of many Sankera people who feel they are govern by a leader who is not concerned able the security of his people.
Development can not strive in any community, state or nation where there is no security. This is why to every sensitive government, the security of lives and properties must be its top most priority.