By Joseph Nashima
A lady from a wealthy Canadian family is on her way to Benue State with a set of children to tell the people about a certain Reverend Father called Hyacinth Alia who went over there, disguised as an ordinary person and married her, obviously for her wealth. The priest who is now suspended had those children with the Canadian lady, but afterwards he siphoned a chunk of money from her and absconded.
She later found out that her run-away priest lover is in Benue state and is contesting for the 2023 governorship, so she is coming over to let the people know the real character of this man so they won't make any mistakes about him.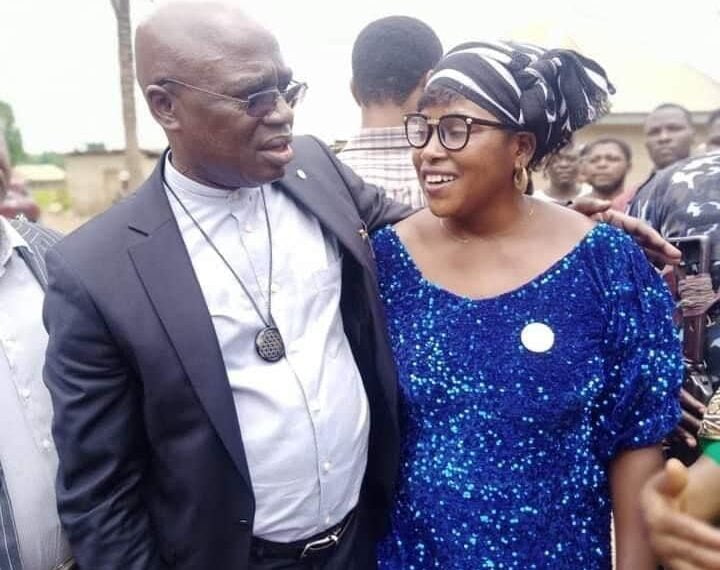 That man Alia is not a good man. He only used the priesthood to hide and commit atrocities. This is why an old priest like him didn't have a parish where he was presiding before his suspension. Alia continued to work under junior priests until he resigned from priesthood recently.
Alia violated the Oath of Celibacy many times. The oath of celibacy is the state of a Catholic priest remaining unmarried and totally abstaining from sexual activities. But here is a priest who has not only violated that oath but also had children with different women from Nigeria and abroad. The church confirmed his illicit acts and decided not to give him any parish to head.
Alia is also a very corrupt man. In all the places he served as a priest, there are records of his mismanagement of funds and embezzlement to build mansions for himself and his women.
Read Also: It would've been workover for PDP if Atiku had picked Wike – Turaki
This same priest deceived many unsuspecting people in the 1990s and early 2000s with fake miracles of healing of sick people. Till today, he can't point at anyone who is a well known person in any part of Benue State who was cured by his "healing miracles". The good thing is that the church soon discovered his fake life and many people stopped attending his "healing masses".
Even before the Canadian woman announced that she will come to Benue to tell the people about his lifestyle, the challenge Alia was already facing a dilemma about who to keep as his woman back home. There are so many women in his life and now each of them wants to be first lady if he wins election. Just that he is not even considered a serious contestant because of the fraudulent manner he was rigged in as candidate.
I will keep you informed when the Canadian lady arrives Benue State. Stay tuned.